March 28, 2000 You were foaled in British Columbia Canada Dam- Song and a Smile Sire-Repletion
Me-I was in my freshman year in college. I had been dating Ryan for just a couple months.
September 18, 2000 You were sold to Rob Maybin and stayed in Canada.
Me: I was starting my 2nd year of college and starting to get serious with my boyfriend Ryan.
Sept 16, 2002 You ran your first race coming in 2nd place and Hasting Racetrack in BC, Canada
Me: Live in South Bend, IN in a cute little house in the city. I got married just 7 months earlier and just found out I was pregnant with my first baby.
2-2-02
June 14, 2003 You broke your maiden! That was the start of a HUGE year for you. Running in Stakes races, Derby's and Cup's winning 3 times and only once finishing worst than top 3.
Me: Just had my first baby, it is a girl! My world is consumed with her. I become a stay at home mom.
Oct 31, 2004 4 years old! Won your second race this year and more than earning your keep. You ran a lot this year in some big races.
Me: I had just bought our home on 15 acres of land. There was a small barn and no fencing but in my mind it was just perfect. Though I didn't know you yet it was all for you. To one day bring you home. I also was 5 months pregnant with my 2nd child and had 17 month old baby.
Sep. 25, 2005 You won the only race you would win this year. You were still running against solid competition in stakes races just not as many wins.
Me: I was eyeball deep in babies and dirty diapers. Though all the steps I had taken for many years now were heading me in the direction of horse ownership at that time I couldn't see past the post partum depression and all the struggles life was throwing me at such a young age.
Oct. 15, 2006 British Columbia's Premier's Handicap it was your last big race. You placed 4th and I am guessing that season was when the Maybin's decided to pull out of the stakes races with you. You won them A LOT of money and proved your heart.
Me: I had just given birth 5 days earlier to another little girl. That was 3 babies in 3 years and though all of it was not in our life plan things started to get a little easier. Don't get me wrong having a 3 yr old, one yr old and a new born was far from easy but life seemed to have settled some. I was able to put life into a bit better perspective and now that the babies were done cooking it was time I could start cooking up a plan to find that 'perfect' horse.
June 15, 2007 I am sure this was a big day for you. Up until now you had been with the same people at the same racetrack doing the same job for 5 years and today your world changed. You were claimed by Tucci Stables and moved to Toronto Canada. It seems you didn't like the change. You only won one race after this and you slowly but surely were put in lower and lower claiming races. I just 'met' (via Internet) someone from your past that knew you back then. She said you were one of her favorite horses at the track but that you didn't want to race anymore. You reared and smacked your nose on the starting gate pretty badly and were scratched from one of your last races at Woodbine. And that you didn't know what a carrot or apple was but that she took the time to care and soon you would nicker your, "old man nicker" when she came to the barn.
Me: Being mom and dreaming of horses. I was enjoying my children and knew that with three little ones, now was not the right time to add a horse into my life. I would have not had the time needed to dedicate to one.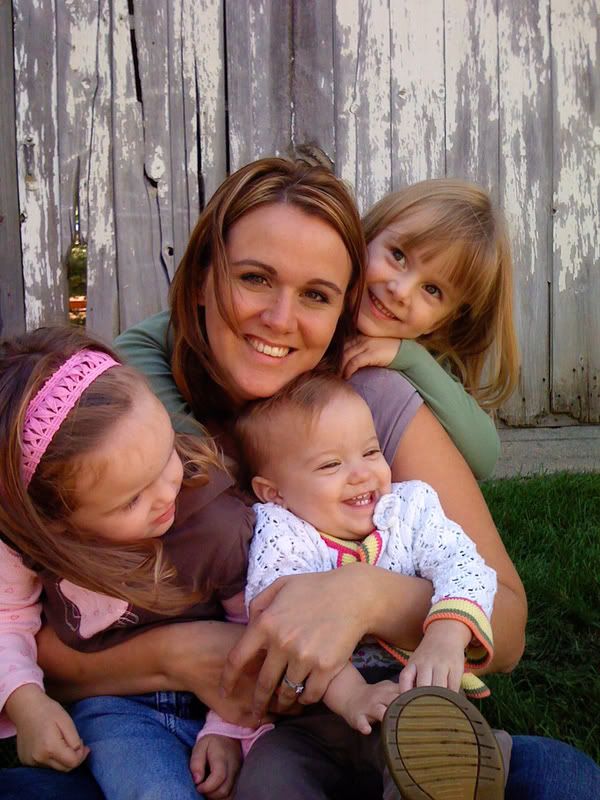 Oct 27, 2008 You were claimed again this time by an Elizabeth Cochrane and you made your way to the USA. Pennsylvania to be precise. You have been racing for 6 years now. There is not one year that you didn't race many many times since you were a 2 year old. You have changed hands, racetracks and countries. I can't even imagine the things you saw and did. The horses you raced, the wins the losses.
Me: I am getting the farm ready a little each year. Clearing brush, cleaning fence lines, tearing down the old and putting up new. The kids are getting bigger now and they are all finally out of diapers!
May 9, 2009 You are claimed yet again and now you move to Cleveland, OH. It seems you are slowly but surely making your way to me. You win the last race that you will ever win on September 9th and though it is a small race you still prove you have the heart of a winner. Over 8 years on the track now and you are still giving them your heart.
Me: I am about to turn 29 the kids are getting more self sufficient and I can see the light at the end of the tunnel to bringing my horse home. There is still work to do but it won't be long now. I didn't know it at the time but I needed you more than I could have ever imagined.
Dec. 12, 2009- Jan. 9 2010 You changed hands 3 times in a month. The details are not clear as to why or how but someone finally had an ounce of humanity and let you come off of the track sound. There was talk of owners with no money and a trainer who didn't have the heart to make you keep racing.
Jan. 9, 2010 You raced your last race! It was at Turfway park and you came in 9th.
Me: I was lining up a fencing company to come out as soon as the ground thawed. My dream was actually about to come true! I was scouring the Internet for a cheap sound thoroughbred.
April 11, 2010 A family came to see you today. You didn't know them and for all the people who have come and gone in your world you didn't think much of it. You were skinny, hairy and still trying to figure out the pasture life.
Me: I was going to look at a horse today! I didn't want to get my hopes up but who am I kidding I was driving with trailer and if it didn't try to kill me it was coming home with me! I show up and saw a dirty, hairy, skinny, HUGE and most beautiful creature I have ever seen. I loved you. I didn't know you but I loved you. I rode you and you indeed did not try to kill me so I made and offer of $850. I really had no idea what I was getting myself into but I didn't really care, you were mine and you were perfect.
You didn't know that day how much your world was going to change, nor did I know how much you would change mine. Since then through you have helped me learn that it is not only ok to take care of myself but necessary. You helped me find myself again and rediscover my single strongest personal passion that through life's circumstances had not been lost but buried. I became stronger physically, mentally and emotionally. What we have accomplished together has given me confidence in myself like I have never had before and in that confidence you were able to find yours again. Together we became strong and brave. For me it wasn't just strength and bravery on your back but throughout my whole life. You made me someone my girls could admire and helped me show them that it is possible and life changing to follow your dreams. Our paths at times were worlds apart but when they collided we were both forever changed. I don't know what our future holds but I do know that our worlds have been brightened by these years we have had together.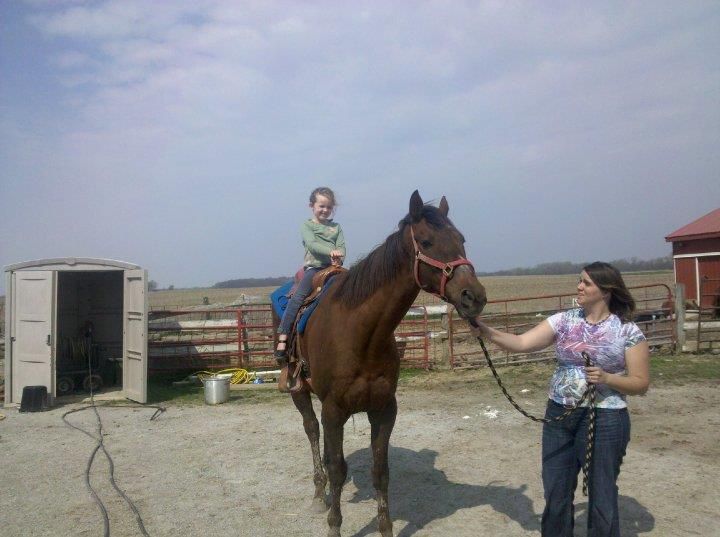 The day I met you.
Us at our first HT two years later!
You and me are just better together!